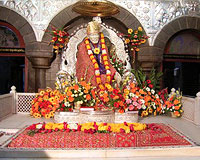 The final resting place of Sri Sai Baba Shirdi has now become a world city due to the presence of this compassionate fakir. Located in the Ahmednagar district of Maharashtra Shirdi was just a small hamlet with merely 80 to 100 thatched roof or kuttchha houses. By the grace of Sri Sai Baba the hamlet has now turned into a bustling modern town where more than a million people cutting across religions and from remote parts of India and all over the world come here to pay obeisance at the Samadhi Mandir. It was at Shirdi that Sri Sai Baba took Samadhi on 15th October 1918.
The town of Shirdi has undoubtedly become one of the most important and visited pilgrimage towns for Indians. What is beautiful is that the holy saint was believed to be a Hindu by birth but was brought up by a Muslim family and stayed at a Masjid in Shirdi. The pure syncretic tradition which developed in Shirdi during his lifetime has stayed and it is one of the few temples in India where the Muslims, Zoroastrians, Christians, Sikhs and the so called untouchables can enter the temple premises without any fear.
Shirdi is today synonymous with Sai Baba; wherever you go in Shirdi you will find his presence in physical and spiritual form by visiting the numerous places where the divine saint stayed. Here the Sai Baba lives on in the Dwarkamayee Masjid where Baba use to stay, at Gurusthan under the Neem tree where Sai Baba use to spend days together, at Chavadi where Baba use to spent every alternate night for resting. The sixty years that Sri Sai Baba spent in Shirdi has added divinity and serenity to the town which the people coming here from far off places every time feel when they land on the soil of Shirdi.