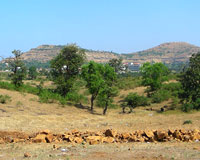 Location:
Ahmednagar District, Maharashtra
Summer Temperature:
40
o
C max and 29
o
C min
Winter Temperature:
30
o
C max and 07
o
C min
Average Rainfall:
510 mm
Best Time to Visit:
October to March
This western town of Maharashtra is today famous for being the final resting place of Sri Sai Baba. Despite whatever is the weather of Shirdi the town is flocked by pilgrims who come here to pay obeisance at the Samadhi Mandir. Shirdi due to being away from the coast enjoys a dry kind of climate. The summer months are extremely hot especially the month of May witnessing the mercury rising to a high of 40
o
C. The winter season in Shirdi on the other hand is pleasant and at times it becomes little cold at night. Read on to know more about the weather of Shirdi.
Summer
The summer season in Shirdi lasts from March to June and is quite unpredictable. The month of May is the time when the temperatures are really soaring high and reach up to 40
o
C. The summer months experience dry scorching heat and it is better to carry light cotton fabric clothes for this season to Shirdi.
Winter Winter in Shirdi are pleasant and a stark change from the summer season. The winter season lasts from October to February and the month of January witnesses the mercury dipping to a low of 07
o
C. The nights might become cold & chilly hence it is better to carry some light woolens for this time.
Monsoon
Unlike other major towns of Maharashtra Shirdi does not receive heavy rainfall. The Monsoons here last from July to September and are a welcome break from the hot summer months. The mercury considerably dips making the weather pleasant. Despite the rain showers or drizzling the devotees don't stop for a minute to have a glimpse of Sai Baba's Samadhi spot.