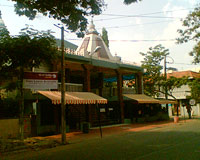 The holy town is visited by innumerable people every year for viewing the Samadhi Temple of Sri Sai Baba. At every nook and corner of Shirdi it is Sai Baba who is present here either in spiritual form or in physical form by leaving behind several physical structures where he once lived or graced the place by his presence. The peoples saint spent almost 60 years of his life here and his greatness spread all over Maharashtra and beyond during his lifetime. Today the temples of Sai Baba are found in every city of India and abroad in countries like Australia, Great Britain, New Zealand, America and many more. When in Shirdi there are several places to see which are associated with this holy saint in some or the other way.
Samadhi Mandir
The temple housing the last remains of Sri Sai Baba is known as the Samadhi Mandir of Shirdi. It was Sreemant Gopalrao a rich man from Nagpur who got the construction of the temple started to place the idol of Lord Krishna. However it was to be the holy place where the last remains of Sai Baba were to be placed. Sai Baba left his body on 15th October 1918 and since then that place holds great reverence for Baba's followers from all over the world. The Samadhi temple is the focal point of Shirdi pilgrimage and people stand in long serpentine queues to get a glimpse of Sai Baba's last mortal remains.
Dwarkamayee Masjid
Situated to the right of Samadhi Mandir is the place where Sai Baba spent a major chunk of his lifetime. It is at this Mosque that Baba lit up lamps every evening. In fact the name Dwarkamayee was given by Sai Baba to the Masjid. It was here that Baba spent his days sitting on a huge stone which is preserved till date. Even the sacred dhuni (fire) which was kindled by Baba is lit to till this date. The miraculous udhi (ash) from this fire is used by pilgrims and is considered to be immensely divine. The Masjid has a life-size portrait of Sai Baba which he himself received and said that after me the portrait would continue to live here. The Dwarkamayee Masjid in fact holds more importance for many devotees of Sai for being the place where this pure soul spent his life.
Chavadi
Located near the Masjid is a small two room house called chavadi. It was here that Sai Baba spent every alternate night. At the chavadi one can find the asan (seat) on which Baba use to sit. A wooden plank and wheel chair bought by Sai Baba are also kept at the chavadi. It was at the chavadi that Baba's body was bathed for the last time before his funeral.
Gurusthan
Gurusthan is the place under the Neem tree where Sai Baba was first spotted in Shirdi. The neem leaves left their bitterness due to the presence of Sri Sai Baba in its shade. The place is revered for also being the site where Sai Baba's Guru took Samadhi. Here a huge portrait of Baba is placed in front of which are a shivling, Nandi cow and Sai Baba's padukas. At Gurusthan incense keeps on burning throughout the day and night.
Khandoba Temple
At the Ahmednagar-Kopergaon road is situated the Khandoba temple dedicated to Lord Shiva. One of the oldest temple of Shirdi it was here that Pujari Mhalsapati called Baba with the name Ya, Sai! This temple is one of the earliest places in Shirdi where Baba laid his feet.
Lendibag ans Nandadeep
Sai Baba spent few hours of the day meditating here and lighting a lamp in earthenware daily. Here Baba also made a small garden which remains here till date. Lendi is actually the name of a nalla (stream) which sprung up when Baba dug up a well here for drinking water. The earthenware is still lit here and is known as nandadeep.
Mahadev, Ganesh and Shani Temples
Situated in a row adjacent to each other are these three temples which happen to be few of the oldest temples of Shirdi. These three temples of Shirdi are greatly revered and hence visited by a number of devout Hindus on their visit to Shirdi.